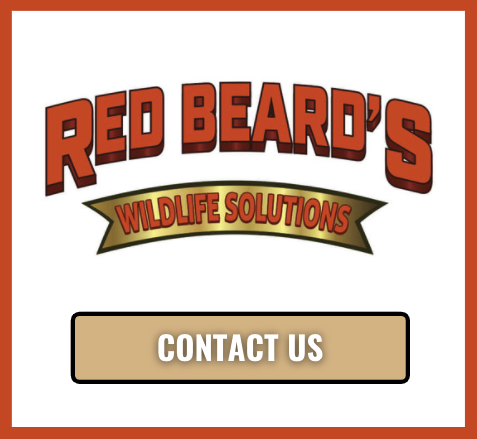 Red Beard Wildlife Services provides all wildlife removal, repair and prevention services to our customers in the Oklahoma City area, including Edmond, The Village, Piedmont, Arcadia, Midwest City, Dell City, Moore, Norman and the surrounding areas. We use non-toxic wildlife control products to keep you and your home safe and pest-free.
We provide control and removal services, the following nuisance species:
Fox Control

Badger Control

Bobcat Control

Coyote Control
When needed, Red Beard's Wildlife Solutions also provides scat removal and wildlife damage repair, which includes gutter & siding repair services. We will complete repairs and patch work to seal up all animal access points to your structure.
Our home repair and wildlife prevention solutions include the following:
Cleaning & repair of gutters

Installation of chimney caps

Installation of foundation & soffit vents

Installation of gutter guards

Installation of roof, attic & dryer vents

Installation & replacement of insulation materials

Installation & replacement of siding

Removal & sanitization of animal feces & urine

Repairs for damage wood, metal & vinyl

Replacement of roof shingles, turbines & vents

Sealant of animal entry points

Trimming of tree branches that touch home
---
Our Wildlife Removal & Prevention Process
Maybe you've heard squeaking and scratching coming from in your walls or your attic. Maybe you've smelled suspicious odor emanating the crawl space. Maybe you've discovered unusual droppings in or around your home. The bottom line is, you're pretty sure there are wild animals living in or around your home and you want them gone. RedBeard Wildlife Solutions offers wildlife damage repair, prevention, and removal & control services!
For all your wildlife control needs in greater Oklahoma City area, contact Red Beard's Wildlife Solutions. We put a swift and definitive end to wildlife infestations with tried and tested control strategy that consists of four stages.
1: Inspection
When you've got a wildlife problem on your property in Oklahoma City, the first step is conduct inspection to assess your situation. During this inspection, our licensed wildlife control experts will be able to determine what kind of wild animals are living on your property, how many of pests have invaded your home or are living outside or beneath it and, the critters are inside, how they were able to get in. Once this inspection is complete, we'll be able to begin with our removal and prevention services.
2: Removal
If nuisance wildlife species are living inside of or in close proximity to your house, our team will remove them from your property as quickly as possible. We'll set up traps with the animals' preferred bait to lure them in and catch them all so that we can safely relocate them back into the wilderness, far enough away that they won't be able to find their way back to your home. After the pests have all been removed, we can take measures to prevent the infestation from recurring.
3: Exclusion
Unfortunately, once one wild animal has invaded your home, others are likely to follow. Wildlife infestations will often create or expand upon existing holes in the exterior of home which animals can use as entry points. To exclude other wildlife from invading your premises, our technicians will apply the appropriate sealants, screens or barriers to openings perimeter the prevent animals from accessing your home in future.
Once the wild animals have been removed from your house in Oklahoma City and we've taken measures to prevent them from re-entering, we can finally address any damage they may have caused on your property. Many animals will rip shingles off of roofs to get in and wreak even greater havoc in the attic, tearing away at insulation, drywall and wiring. Our crew will be able to repair any of these damages. We'll also clean out any nests, droppings or urine stains left behind by wildlife, and we'll thoroughly sanitize the areas where the animals lived to kill off bacteria and parasites before they have a chance to spread.